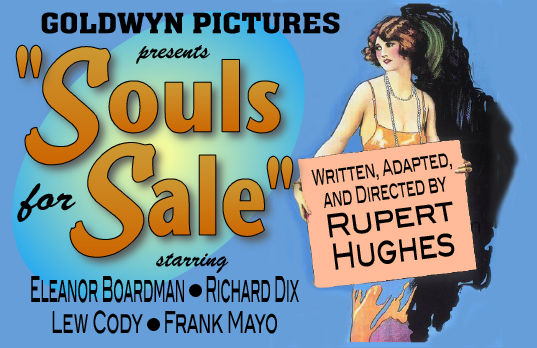 It is compelling, compelling
That everybody is $elling
$elling and telling of $elling
Their soul to the Devil!
Only a soul that won't wait
On the Almighty God
To give him a gold plate
Containing Christ's Righteousness
And Everlasting Life
Would feel compelled to smilingly tell
Of the $ell out to old $atan, and
Of preferring separation eternal
To Life that's supernal!
Well, let me tell you
How it is that I feel
About the compromise
And bona fides
And $1,000,000 lies:
It is like this:
With Satan, it is
quid pro quo
!
(something for something)
With Jesus, it is "I love you! I've prepared you a home!"
With Satan, it is "Do what thou wilt!"
With Jesus, it is "Worship the King!"
With Satan, it is "Be ye conformed!"
With Jesus, it is "Repent, and be reborn!"
With Satan, it is "Be obdurate! Oh, Obfuscate! "
With Jesus, it is "Illuminate! Please explicate!"
With Satan, it is "Affaire de couer! Be cavalier! Go Domineer!"
With Jesus, it is "Beware! Turn Away! That's not the way!"
With Satan, it is "$ell me your soul! I'll give you power and pearls!"
With Jesus, it is "Buy of Me fire-tried gold, white garments and eyesalve!"
Dear Ones:
The last statements sum up all that is wrong in the world today:
Satan $ell$ to us what is parching, pretty, and putrefying!
Jesus wants us to buy what is practical to provide for our promotion to Paradise!
So, if I have made my case clear
You have a decision to make
And you have nothing to fear
From the $ell-outs
Those diehards
Who have given their all
To a creature - not their Creator
For baubles and tight bums
For salutes from the slimy
For fame and fun runs!
Look to Jesus - He made us!
By Him we abide
Give glory unto Him
In His love abide!
For that love was sacrificial
It gave everything for us all
So that we can approach Him
And bless Him and praise
Him in the corporeal
And then in the blaze
Of Eternity's Light
Sight
And Sound
With ever glad song!
Ephesians 6:10:17 (AKJV)
10 Finally, my brethren, be strong in the Lord, and in the power of his might. 11 Put on the whole armour of God, that ye may be able to stand against the wiles of the devil.
12 For we wrestle not against flesh and blood, but against principalities, against powers, against the rulers of the darkness of this world, against spiritual wickedness in high places.
13 Wherefore take unto you the whole armour of God, that ye may be able to withstand in the evil day, and having done all, to stand.
14 Stand therefore, having your loins girt about with truth, and having on the breastplate of righteousness;
15 and your feet shod with the preparation of the gospel of peace;
16 above all, taking the shield of faith, wherewith ye shall be able to quench all the fiery darts of the wicked.
17 And take the helmet of salvation, and the sword of the Spirit, which is the word of God: