Lord, send out The Talking Donkey
To block my wicked descent
Into evil days and apostate ways!
Lord, expose my sin
And, please help me repent!
Father, show me if I am following the multitude
Walking in sins wicked way and eating devil stew!
Please open the mouth of the donkey
Before the Angel has to unsheath his sword and run me through!
Lord, I have me an old donkey
But all He does is brush squeeze my leg against the wall
So I know I need The Talking Donkey
To check turn me from a terminal fall!
My current donkey like he just a little bit foolish
As all he does is just eat and loud bray
But sometimes he braying does be sounding
Liken he sending up a faithful fretful humble pray.
I don't know who he could be praying for
He better say a pray for he self
'Cause if he hurt my foot leg again
He head gine be mounted on the north wall
On the "This Be Bare Ignorance" shelf!
Lord, I know my eyes are often greedy
And my stomach slow to get to the full
But I am willing to listen
So let Your donkey speak clearly
So nothing he say can be misunderstood!
I listened to my old donkey braying this morning
And it really sound like he saying he prayers
For I heard him calling my name, Lord, I sure - for I heard him say it real plain!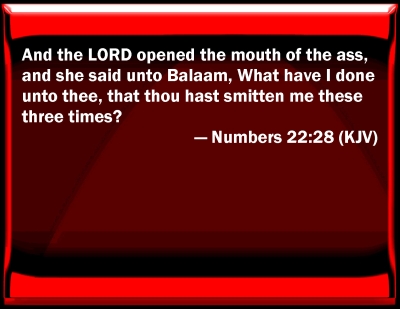 That donkey said:
"Lord, help my old Patty
She staring down the barrel of a gun
She listening to Balak O'brien
But she ain't know he is that wicked Beelzebub!"
"Lord, Patty is proud and often foolish
She wants to get into the "I Got This Club"
But she don't know that club is full of devils
Who wage war on the soul
Through free spending and idol-worshiping love!"
"Lord, have mercy on my Patty
She don't understand what I say when I bray
She thinks that when I squeeze hurt her leg
That I foolish just wanting to play!"
"Patty don't understand that I'm seeing
That Angel blocking the entrance to
'Sinners' Welcome' - Licensed Whores Available In Store!"
"The sign my Patty sees is very different
From the one that I can see real plain,
Patty's sign is covered up covert
And she doesn't see that the Dragon's body
Is rewriting the come-welcome sign:
"Sinners' Welcome - Licensed Store
Whores Reclaimable
Work Available"
"Lord, please help my Patty!
Give me Your Voice today as I pray
Please don't let Patty continue on this way
Open her ears, Lord, even as I bray
Please, Lord!
Let Dear Patty hear what I say as I pray!
BrraaayyyMen!?!!"
Lord, have mercy!
De donkey does talk!
Lord, have 'is mercy!
He talks! He talks!!
Thank you, Lord, for the blessing
Now, now, I can see
That You, Lord, God Almighty
Really, really, looking out for me!
Donkey, Dear donkey, I love you!!
Braaaayyy!!
There are no Prostitutes in Paradise!
Turn your back to the breeze!
Pull up your sleeve, and pray:
To walk the straight and narrow way every day!"