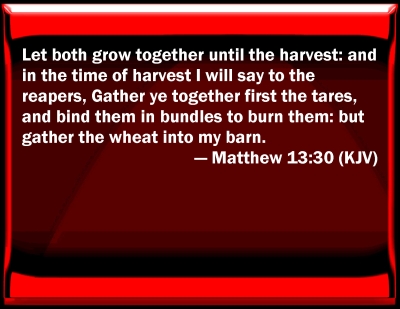 Pretty Tares and
Tearful Wheat are Growing
Together
Side by Side
Today!
Christians Are Not The Reapers for
Jesus Christ Hasn't Given Us Permission to Act That Way!
Petty Tares and
Praying Wheat
Look Alike Until The Moment of
The Change!
Until Then
Any Hint of Separation
Will Destroy Both and
In The Master's Barns
There'll Be No Grain!
But ... The Lord
In His Great Grace
In The Land Called Provision
Did Something Wonderful for You and Me
Whether Wasting Tares or
Waiting Wheat!
He Feeds US All
As is Good and Mete!
And ... At
The Change of
Acceptance
Of The Truth That Is Light
At The Rain of Perfection
Which Falls Day and Night
At The Becoming
Of What Jesus True
Created Us Truly To Be
Our Heads Display The Bunches of Goodness
We Have Been By Truth Fed!
There!
In The Distance
Coming
IS The Owner of The Barn
Bringing His Sickle
Sharp to
Cut Clean and Deep!
His Reapers
Separate Out
The Wrong Tares from
The Right Wheat
With The Wrong Tares
Sent for The Burning and
The Right Wheat to Be Good Eats!
God IS Not Going to Eat You!
It is Metaphorical I Say!
You Will Become Something Grand
In The Great Harvest Day!
The Change Will Be In An Instant
Robes of State Will Appear
Crowns of Glory Distributed
And
All Will Be Satisfied With The Pay!
So, Dear Ones
Let Me Encourage You
Look To At Jesus -
Not Your Lot!
Earthly Discomfort IS Temporary
Living With Jesus IS Not!
Living Amongst Tares May Make You Tearful!
Not Being A Tare Will Make You Tear-up A Lot
But ... Bear Your Burden
Jesus Christ IS Coming
And
He Will Wipe Away ALL Tears
From Those Eyes
Who With Him
Cast Their Eternal Lot!!
When
We Digest The Gospel Leaven!!
Who Must Grow Up With Hell's Tares!
Oh, Father, Even Though Our Eyes Weep
Help Us To Stand Firm and
Even As The Contamination of Hate Is Burning Our Feet!
Help Us To Not Look Down At Our Condition
To See
Heaven's Promise and
To Maintain A Death-Grip on Our Jesus for
Father, We Desire To Complete Our Journey Home!
Envelop Us With Your Peace
To Continue On By Jesus' Faith
To Gain The Eternal Victory!
In Jesus' Holy Name I Plead