A portion of their time was to be occupied in the happy employment of dressing the garden, and a portion in receiving the visits of angels, listening to their instruction, and in happy meditation. Their labor was not wearisome, but pleasant and invigorating.—The Signs of the Times, January 9, 1879.
God Gave to Man Happy Employment!
BUT
Through Satan's Machinations
It has Devolved into Dreaded Work!
Would That The Lord
In Mercy
Restore
Love for The Creator
And
Remove Employment from Being a
Bore
Snore
Chore!
Would That The Deceiver
Had Not Seen To His Personal Self
And, Instead, had Accepted Jesus Christ as God
As God The Father Almighty was Himself!
"If Only!"
To This Very Day
Are Words that Men - Broken -
Resort To ... As They Pray
To The God They Don't Believe In
The God They Vehemently and Thoroughly Deny
Until The Day of Visitation
When
Their Prayers
Prove That Their Denials of God and His Glory
Are
A Demon-Inspired Packaged Lie!
How Often Have We
In a Fit of Pique
Denied God's Sovereignty
And
Elevated Satan's Malignity?
How Often Have We
Denigrated God's Truth and Righteousness
And
Elevated Satan's Crookedness and Deceit?
The Living Holy God's Weapons of Warfare are
Truth and Righteousness
Made Up of Love and Light and Grace, and
Justice By Mercy, Faithfulness
Hope, Helps, Healing, and
Provision, and
Salvation
By Forgiveness Of Sin
Through
The Sacrifice of Jesus Christ!
Satan's Weapons of Warfare are
Crookedness and Deceit Made Up of
Lies, Hate, Cruelty, Injustice
Perversion, Diversion, Dalliance and Denials of Truth
Malice, Murder, Malevolence, and
Brutishness, and Brutality.
God IS Able!
But
Satan Tells Man God is A Fable
So that
He - The Pretender - Is Then Capable of
Elevating - Extricating - Himself
Up and
Out of
The Losers Stable!
BUT ...
Satan, Ever The Liar
Ever Lying
Sells to The Unwary and The Unbeliever
His False Bill of Known Goods and
His Known Bill Of False Goods!
Satan is Not a god Nor God!
Satan Cannot Make Man Into God!
Satan Cannot Save Himself!
Satan Cannot Lift Up
Nor Uplift Anybody
And
He Cannot Force Anybody Do Anything
And
He Cannot Read Minds
Nor Can He Tell Any Man His Future!
Satan Is The Master of Illusion
Who Sells to The Unwary
An Excess of Delusion!
Jesus Christ - The Righteous
Until YOU Accept Jesus Christ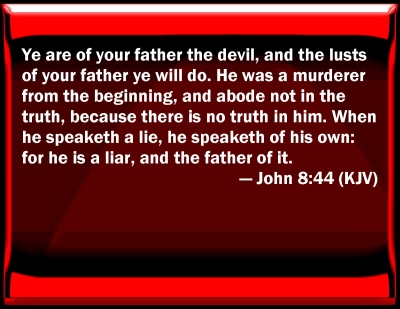 When YOU Accept Jesus Christ
KNOW This: