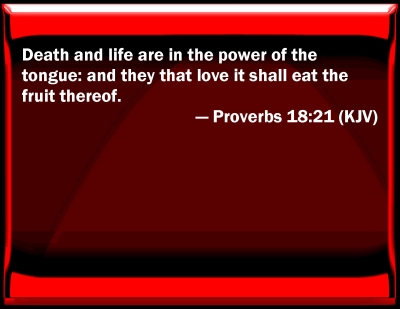 I Went To The Circus!
It Was A Grand Spectacle!
There Were Lion Tamers
Elephants
Tigers And Clowns
BUT
All I Wanted To See Was
The Taming Of The Tongue!
The Tongue-Tamer
Was A Grand Fellow!
Personable And Quite Handsome Was He
AND
The Buildup To His Performance
Was Buzzing Everybody!
Step Right Up!
Step Right Up!
See What Is Called An Impossibility!
Our Master Tongue-Tamer
Is Going To Astound
Everybody!
I Was, Of Course, Intrigued
- Bible Believer That I Am -
To See A Mere Man
Tame
A Human Tongue -
The Impossibilty
For
According To The Gospel
It Had To Be A Scam!
AND ...
Would You Believe It?!
The Master Tongue-Tamer
Had That Tongue Doing Curls
Licking The Man's Lips
AND
Poking Him In The Jaw!
That Tamed Tongue Even Gave A Flourish
AND
An Impudent Whirl!
AND, THEN ...
For The Finale
The Tongue-Tamer Wanted That Tongue
To Do A Recitation!
Yup! 'Tis True!
Mouth Cleared Throat
AND
That Tongue Did Recite
AND
If You Were There
You Would Understand
Why The Tongue-Tamer
Turned
Sheet White!
That Tongue Had No Scruples!
That Tongue Had No Shame!
That Tongue's Wheels
Had No Brake-Pads
AND
The Tongue-Tamer
Is Now Sitting In Jail
For
That Red-Rag Called Tongue
By Men And Women
Every Where
Proceeded To Unmake The Tongue-Tamer
After The Tongue-Tamer Said:
I Control This Creature Called Tongue!
This I Emphatically Declare!
After The Second Swig
Of The Shining Snap Glass
That Red-Rag Whitewashed The Tongue-Tamer
AND
The Circus Had To Shut Down
Real Fast!
Hell's Fire Had Been Kindled
AND
There Was A Conflagration Grand
AND
The Local Authorities
Soon Had The Tongue-Tamer In Hand
For False Advertising
For Not Delivery On The Goods
For Encouraging The People To Tell The Ear Secrets
That The Tongue-Tamer Declared
Promised
- By Dint Of His Skill -
Would Never Be Divulged!
If Alcohol Is Your Poison
If Gossip Is Your Trade
If Snide Remarks Make You Tingle
Heads Up!
Your Tongue Is Ablaze
So
Repair Unto The Father
In Jesus Christ's Name
AND
Plead
Under The Agency Of The Holy Spirit
For
A Red Rag Exchange!
What A Sober Mind Conceals
Give Your Unruly Tongue To God!