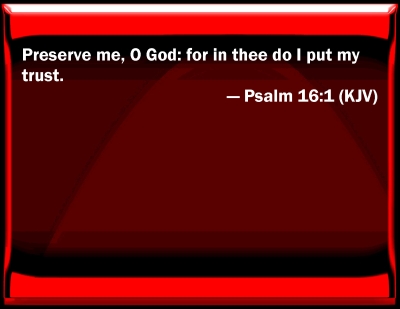 How Can I Be A Bastard
When Jesus Christ's Father Is Also Mine!?
How Can I Be Spiritually Bereft
When My Father's Name Is Hallowed
AND
He Is Divine?
How Can I Be Stateless
A Spiritual Refugee
When My Father's Kingdom Is Coming
AND
I'm Awaiting The Welcome Home Ceremony?
Why Should I Subjugate My Will To Sinful Men
When My Father's Will Will Be Done?
Why Should I Accept That Lying Heathen's Word
When Heaven and Earth Obey The Lord's - My Father's - Every Single Word?
Why Should I -
A King's Child
Be Hungry For Bread
When My Father Is Lord Of All He Surveys?
Why Should I Be Afraid
To Admit To My Father
The Wrongs That He - All-Seeing - Knows That I Have Done?
I Go To My Father
Each And Every Day
Beseeching His Blessing
For Him
To Teach Me His Way
To Temper The Tempter
To Deliver Me From Evil
By Mercy To Help Me In Distress
AND
To Cover Me Forever
By Grace With Good Favor
AND
Living In His Love
I Do Not Labor For Eternal Life
Like I'm My Own Dear Savior!
My Father Loves Me!
It Is Plain For All To See
Whether Friend or Foe
Or Even Busy Body!
- Accepting Of Jesus Christ's Sacrifice -