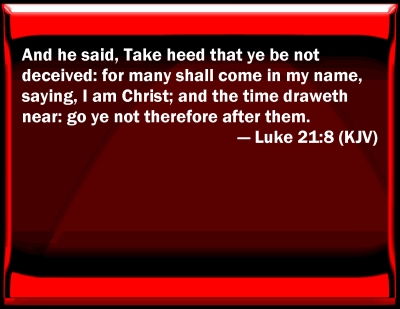 When Men Shall Have No Fear
Of Lying To The Lord's Flock
By Tickling Them In The Ear!
They Are Of Their Master The Devil
Can I Lift Holy Hands To You
Giving The Gift Of Praise
Why Should True Believers
On The Faith Of Our Lord Christ
Give Our Pennies And Dollars
To Support The Work Of The Fraud?
Good Stewards Of Our Increase
And Stop Letting Charlatans
Our Little Pockets Fleece?
Can We Come Before Your Face
Whose Living Is
A Christian Disgrace?
Who Sow To Their Souls Pleasure
Who Please Their Bodies - Not Their Lord
Who Live By The Eye - Not By God To Live And To Die
Who Give Love To The Self
By The Many Toys On Their Shelves
"My Money! Please, Give Me More! "
To Reach The Blissful Shore
Their Shore Is Their Checkbook
Their Diamond Black Charge Card
The Invitation To Majestic Palaces
Who Have No Love For The Sin-Sick
Who Sickness And Acknowledging Sin Do Utterly Bore
For Want Of Another Bauble
Through Satan's Wide-open
And
Majestic
Front Door!?
On This Remnant Flock In The Open Field
Who Need To Be Led By The True Shepherd
And
Not By Crooks And Charlatans
Demons Called Miracle-working Men
You Promised My King Jesus
That He Would Not Lose A Soul
Lord, I Believe What You Say
That You Live Up To The Word - Holy -
As Blessed Comfort
To A Fallen Race
We Want To See ... Jesus!
We Give You Our Humble Praise!