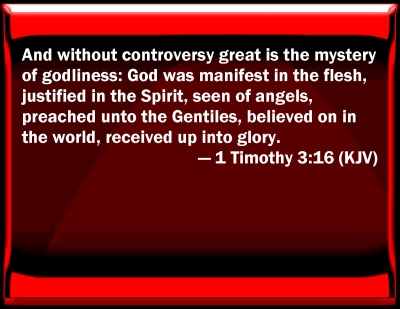 Some Men Serve The Baby Jesus!
Some Men Serve The Miracle-Working Teacher Of Galilee!
Some Men Serve The Christ Still On The Cross Of Calvary!
Some Men Serve The Dead-In-Joseph-Of-Arimathea's-Grave Jesus!
Some Men Serve The Jesus Who Got Up From Death's Tomb
AND

Some Men Serve The Jesus Who Rose Up


AND


Returned To His Father In Glory
AND

Forget
That Jesus Christ Returned
To His Father's House
For Us To Make Room!
Some Men Refuse To Accept
That There Is The High Priest Jesus
In Heaven's Tabernacle's
Most Holy Place
Pleading The Blood
Of The Lamb Slain
From The Foundation Of This World
Pleadings His Merits
To Take Away Believers' Sin-Shame
Place As A Lost-To-Life Slave!
Jesus Christ

IS

One
God-Man
Fully God
Fully Man
From Glory To Glory The Same
Save For The Marks
Of The Ultimate Sacrifice
Which Will Be The Only Evidence
Of
Our Sin
Man Cannot Choose
The Brand-Part Of Jesus Christ To Like
Love
AND

Worship!
Man Cannot Choose
Which Specialty Jesus
In His Heart To Hold!
The Complete Jesus May Dwell In Your Heart
BUT
You Can't Put Him
- Like Convenient Change -
In Your Pocket To Hold
For
In The Great Day
You Shall Surely Hear:
I Do Not Know You!
From Me Depart!
Jesus Christ
In The Life Of Man


IS


An All Or Nothing Proposition!
Jesus Christ To Man
Is Either
Savior Healer Sealer King


OR


Stumbling Block


AND


Condemning Judge
Who Will To Him
Condemnation's Damnation Bring!
IF
Your Idea Of Christ Jesus
Renders Him
The Missing Piece(s)
Jig-Saw-Puzzle-Jesus
Prepare Your Self
For A Rude Awakening
For
It Is The Whole Jesus
Pleading His Precious Blood's
Bought-For-Us-Salvation
Against
The Death Penalty Handed Down Against Man
By The Justice
Of God's Holy Law!
Jesus Christ

IS

Whole God
Not Partial-God Flawed!
The Forgiving Redeeming God
The Merciful
Gracious Jesus
The

Almighty God Who

Rewards
The Upholders

Of

The

Faith
For Doing All
- For Love -