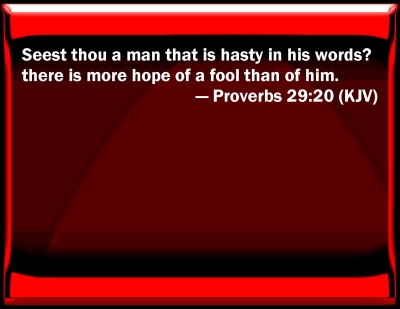 H

asty

I

mpatient

S

peech
Always Always Has
A

S

ufficient

E

xcuse
For Whenever
He Decides To Have
A

F

ully

I

nvolved

T

antrum
Hence The Expression
He Is Having
Really?
Okay. Convince Me!
Yesterday
I Stepped On His Toes ...
... Accidentally, I Am Sure?!
... And He Went Off On Me!
Rock Stones! Breadfruit!
Cherry! Ripe Plum!
Oranges! Bananas!
What De Chewing Gum?!
Heyyyy!
Hold Up Big Man!
Watch Your Language!
Not My Language!
I Am Just Telling You What He Said To Me!!
Anyway, I Said
"Sorry!
It Was An Accident!"
He Inhaled!
He Exhaled!
He Gritted His Teeth!
He Displayed A Plastic Smile
And
Offered Me His Release:
Man, I Am Real Sorry!
Ive Been Having A Hard Day!
I Left The House In A Rush This Morning
And
I Did Not Say My Prayers!
Wow!
Last Week
He Pushed Me In The Street
Saying That I Was In His Way
And
Then Proceeded To Lambaste Me
As If He Had No Care!

Invalid!
Idiot!
Ignoramus!
Slowpoke!
Can't Walk Straight!
Go Catch A Bus!
Father In Heaven!
How Did You Respond!
I Cried Out
In Distress
And He Heard My Hurt Tone!
Nevertheless, He Went On
But Called Me Later
On My Private Number Telephone
And
He Laid "It" On
With A Shovel
As Though There Is Ever
Sufficient Excuse
To Treat A Human Being Badly
And Using
Get This
"Being Human"
As His Cure-For-All
Excuse!
That I Had Caught Him Offguard
That He Wasn't Feeling Himself
His Life Right Now Is Real Hard!
So, What Did You Say?!
I Said: "Thanks!"
Which, Translated Was

He Does Things Like That
Always
And Expects All
Along With Him Rubbish Game
To Joyfully Play
A Soft Answer
Turns Away Wrath!
Honey Catches Flies!
Ignorant Excuses Don't Friends Make
And
Our Father In Heaven
Doesn't Like White Lies!
I Know
And
I Am Sorry
But
I Wanted Him Off My Telephone!

I Am Sick And Tired
Of HisSe Fit
And
I Desire By Him
To Be Left Alone!
Father,
I Do Not Declare
Nor Do I Dare To Decree!
I Just Make My Simple Plea!
Please, I Beseech You
Keep Hasty Impatient Speech
Self-Serving's Sufficient Excuse
And
Fully Involved Tantrum
Away From Me
For They Make Me Want To Behave
In The Way Ungodly!
In Jesus Christ's Holy Name, I Plead!