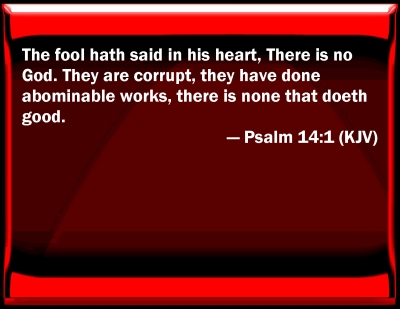 I Was In Life Store


AND

I Saw Prudent Heart
Getting Knowledge
Even As I Heard That
Wise Ear Was Seeking For
Available Knowledge
True!
However ...

To My Shock
Dismay
Who Should I See
At The Juicy-News Bar


BUT


That Hellish Triumvirate
Blackening Reputation


AND


Dissecting Character


AND


They Were Loudly Chattering About
Their Coupons For
An Extra-Large Juicy-News Hot-Topic
- With Extra-Spice -
Free Refill!



SoMeBoDy

Was Going To Get ...


"THE TREATMENT!"

AND


Only God
- By Grace -
- With Mercy -
Was Going To Be Able To Save
That Poor Soul
From Those Sophisticated Cannibals!
They're
Cannibals! Cannibals! CANNIBALS!
They Are Just As Bad
As The Flesh-Eaters In The Jungle
Only Difference Being
A For-Real Flesh-Eater
Stops When His Hunger Is Satisfied


BUT


These Character-Cannibals
- Acting Just Like Leeches -
And Eat
And Eat
And Eat
Unless You Remove Them
With ... HEAT!
Pray Tell Me
Where YOU Are Going To Get
That Brand Of Fire-Power From?
- You And I -
Are Going Straight
To The Source
The Great God Of Heaven
Who Is Our Life Source
For He Has Promised
That What Is For Our Good
AND


For His Glory
Will Be Readily Provided!
The Righteous
Are Not Forsaken!
Their Seed Don't Beg Bread!
The Faithful Are Victorious
AND
Salvation's Day Of Redemption
We Shall Have A Good Testimony
A True Truth Story!
Against Those Who Have No Compassion
Or Conscience
And
Who Destroy Lives
As Easy As Eating Food!
We Plead For Relief, Lord
In League With The Salvation Thief!
To Avenge Us Against Our Adversaries
To Grant Us Your Blessed Relief!
Know Not God
Nor Are They Afraid
Of His Judgments


BUT
We Who Have Godly Fear
Will Shelter In The Lord
So That For Us
There Is No Comeuppance!

I Pity The Fool
Who Stands Against God
Believing The Liar


And


Claiming
The Reward Of The Fraud!
I Trust In The Living God!