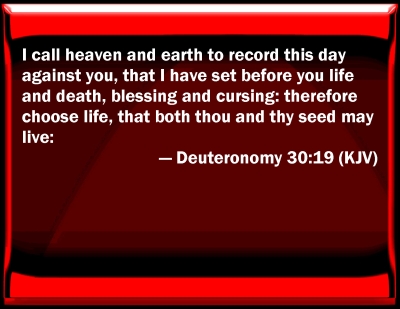 Satan Exerts Influence Over People
He Darkens The Mind


AND


Incites Men Women And Children
To Do Violence
AND


To Commit Base Crimes!
Jesus Christ Exerts Influence Over The People!
He Enlightens
AND

Enlivens
The Mind!
He Impresses All Who Will
To Do Good Works


AND
To Brethren
To Be A Blessing
Here, Brethren
Are Two Princes
First,
The Prince Of Darkness
The Destroyer Of Body And Soul!
Second,
The Prince Of Peace
Who Gives Life


AND


Keeps Mankind Alive


AND


Now
I Sincerely Ask You
Which Prince
Would You
Do You
Should You
Want
Even Need
To Be By Your Side?!
The Prince Of Darkness
Has A Need
To Build An Army Of Opposition
Against The Holy God


AND
His Method Of Recruitment
Is To Offer Paid Access To
Excitment
Influence
Finance
Recognition
Associative
Emotional
Dangerous
Destructive
Selfish
Self-Satisfying
Mind-Bending
Cross-Contaminating
Infectious


AND


Ever Only Temporal
So-Called Enormous Yet Trifling
Pretty And False Shining
AND


Dying - Like Himself -
Awards And Rewards!
The Prince Of Peace
- By Great Contrast -
Offers Unto Mankind
Life In Christ Now


AND


Eternal Life With Christ Later
For Being Of Service To Humanity
In The Service Of The Living Holy Ever-Present
He Knows It All
Can Do It All
Provides It All
God!
In Their Service To Their King
Master
Self-Denial
Is In Part How They Live


AND
Look
Not Given To Displays
Of Gratuitous Acquisition


AND
For Them
Denying Self Is In Answer
To The Lusts Of Manly Living -
They Don't Live In The Land Of
I Want What My Eyes Continually See!
Kindness
Helpfulness
Caring
Sharing
Are Motivations For Each And Every Day


AND


Lest We Forget
That Darkness Hates Peace
They Engender The Acrimony
Of Darkman's Soldiers Elite
Apparently ... Have No Fear!!
Hatred From The World!
Peace In The Lord!
Comfort Of The Holy Spirit!
Protection From The Fraud!
Mercy! Salvation!
Forgiveness Of Sin!
Hope For Surpassing Glory!
Redemption At The Prince Of Peace's Earthly Returning!
Are Gifts To The Saints Of The Holy God!
Gifts From The Prince Of Peace!
So, What ...!?
For The Prince Of Peace
Requires Personal Sacrifice
A Thing Foreign To The Prince Of Darkness
Who Demands Sacrifice From Others
Often Even Sacrifice Of Life!
Those In The Service
Of The Prince Of Peace Know
That He Is The Great Exemplar
For
He Gave His Own Life
For All Mankind On The Cross
After
Suffering The Prince Of Darkness'
Most Dreadful Temptations!
I Can Almost Hear The Wicker One's Laughter!
Between Temptation


AND


Crucifixion
Was Where The Prince Of Peace
Healed
Taught


AND


Fed
The Multitudes
Oppressed
Tormented
Possessed
Oppressed
By The Miasma Of The Prince Of Darkness!

He Raised The Dead!
He Restored Sight To The Blind!
He Took The People Out Of The Darkness


AND


Stood Them Up
In The Light Of Life


AND


For Good Measure
Gave Them Of Eternity
A Real View


AND


Encouraged Them
To Reach For The Extended Sheltering
Comforting Healing Hand
To Hold It
To Hold On To It -
That Offer Is Extended
To Me And To You!
But ...
There Is A Small Price
To Be Paid
By One
By All
Who Will To The Prince Of Peace Cling:

Forsake Sin!
Forsake The Devil!
Forsake The World!
Confess Sin!
Repent Of The Past


AND


Reach Out To Jesus


AND
For Dear Life
To His Outstretched Hand
Unabashedly Cling!
By His Great Grace ... You Can!
One Cannot Be Double-Minded
Holding Darkness And Light
For
Therein Is Confusion


AND


Assuredly
Soul Blight!
So ...

It Comes Down To The Decision!
Upon Which Side Will You Call
Fall?
Truth

Error

Darkness

Light

Temporal Prosperity

Eternal Prosperity

Goodness With Denial

Fleeting Things And A Damnation Trial

Everlasting Life

Eternal Separation From God

Feelings Over Facts

Destructible Things Now

Indestructible Things Later?
You Make The Order!
Sacrifice Now?
Or
Sacrifice Later?

Decisions Must Be Made!
No Dice Rolling!
No Heads!
No Tails!
Conscious Decision-Making
Makes Really High The Stakes!

Jesus For Joy - The Prince Who Is Peace!
I Emphatically Deny The Liar
The Prince Of Darkness
The Salvation Thief!