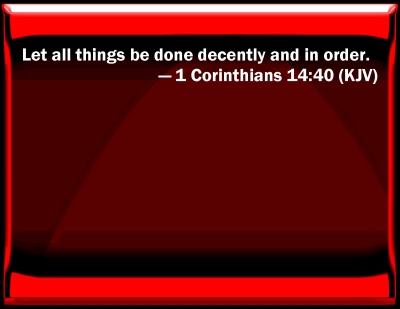 Almighty God Is The God Of Order!
Nothing In His House Is Out Of Place!
Nothing In God's House Is Broken
AND
There's Nothing There
That Needs To Be Replaced!
God's House Is Filled
With Splendiferous Mansions!
I've Never Seen One
BUT
I Accept The Word Of God
To Be The Living Truth!
I Believe That God Is My Father
AND
That My Father Always Speaks
God's Immutable Words Of Truth!
God's Word Says
I Have No Excuse For Sin
Because God's Law Is Written
On The Tablet Of My Heart!
The Same Heart That Used To Be Quite Rotten
BUT
Which
Through The Faith Of Christ Jesus
I've Asked The Holy Spirit
To Move Into
So That The Urge To Sin
Is Forced To Depart
AND
I Shall Henceforth
With Cause
Ever Sing God's Praises
Like A Very Contented Lark!
Dear Father, Up In Heaven
For My Call To Christian Duty
Proclaiming The Word Of The Gospel
Not To Go Around The World
Teach Me Thy Ways, Dear Father!
Help Me To Walk Faithfully In Them
Help Me Not From Hard Tasks
Not Doing Things Half Way!
Please Take Obscuring Beams
Wash And Bridle My Tongue
So That I Will Refuse To Utter
May They As Good Ambassadors
On Great And Small Missions
Of Love, Grace And Faith!
In Obedience To Your Will
Help Them To Get Through Even To
Our Youth!
Forgive Us Our Trespasses
Help Us To Swiftly Confess And Repent
So That You Will Erase Them
From Your Remembrance Book!
Lord, Help Us Not To Commit
To Never Grieve The Holy Spirit Away!
Help Us Not To Truth Deny
The Devil's Pie In The Sky!
No Matter The Manner We Live
With Lovely Hearts That Willingly Give!
The Blessed Bread Of Life
Lead Us So That We May Avoid
Guide Us To The Promised Land
So That We Will Have Right To The City
In Jesus Christ's Holy Name
Have Mercy, And Bless!