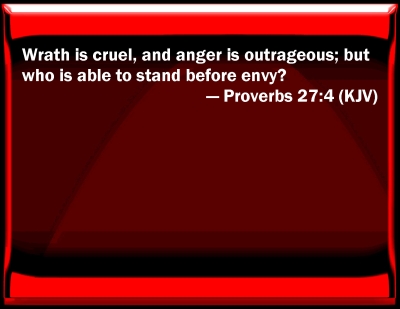 Were All In Attendance At
Who Could Hold Their Own Against
Given Envy ... Plain Envy
Pennies Cannot Hold A Light Up To Pearls
High Flying Precious Pearls
Dismissed
From All Consciousness
Permits Particular People
Considerable Consternation!
What About Envy ...
Plain Envy!
Nice! You Called Out His Whole Name!
Everytime
Anything
Excellent
Dissatisfaction Is His Disease!
Discontentment Is His Creed!
Hate Is The Strutting Steed
That He Faithfully Leads!
That Is How He Gets "The Feels!"
Jealousy - Same Personality -
Was To The Holy God Of Heaven
For His Presumption
Lucifer Received
He Did Unceremoniously Land!
He Was From Highest Heaven Cast Out!
At And Against Frail And Fallible Man
Satan Is A Malevolent Spirit!
In His Dealings With Mankind, My Friend
He Does Not Wear Kid Gloves!
All Who Indulge Satan's Envious Spirit
(Yes ... It Started With Him!)
Embrace Contentment Of Spirit
Let Jesus The Christ
The Eternal God
- Who For Us Died -
In Your Embittered-By-Sin Life
Take The Glorious Lead!