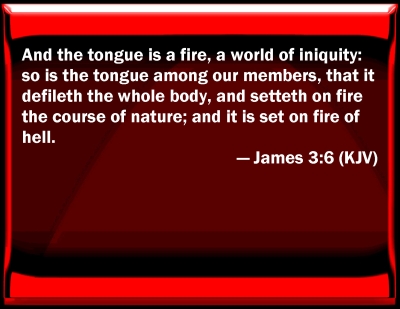 Sis. Anastasia N. Station, Lady Glorene S. Pious, Sis. Velcine Broad and Psalmist Professora A. Kaste are the very best of friends ... and with good reason.
These ladies are The In-crowd's biggest gossips in Give God Praise Assembly and Charity Inc., and their husbands are the Corporation's directors and shareholders, and its biggest donors!?
I don't know about you, but I have never heard of a church nor a charity having shareholders, and I don't know that The Household of God has an "in crowd!"
Anyway, that is what these moojins tell anybody who would listen to them, and their constant idiocy.
Let me tell you upfront that I personally do not gossip, thank The Almighty, and I have never been at, nor on, the receiving end of one of those notable ladies' hatchet jobs.
These ladies are no dilettantes in The Division of Gossipers!
These ladies are connoisseurs in The Art of Character Assassination, and take pride in doing The Job well and thoroughly.
Whenever a church member was hauled before a business meeting because of their generous and officially sanctioned Ministrations To Protect The Lord From The Wicked World's Ways, you can be sure that that person never sets foot back in that church by reason of The Shame.
All that was left to that person was to figuratively zip up the "body bag" and be gone!
I tell you that if there is anything worth knowing about anybody at anytime and anywhere no matter the weather, these sanctimonious pillars of feminine pulchritude - noted also for their en point hats and dulcet tones - always have the 411! They are good!
Did I tell their nicknames?
No!
Listen to this:
If you saw one of these witc...er...ladies, you saw them all!
One day, The Ladies entered The Sanctuary in single file, and Sis. Shay Dinks uttered in a beautifully clear and gorgeously enunciated stage whisper:
"Transmitting Today
In full Devil Power
The Pious Broad Kaste Station!"
Then came the Pertinent Cliche:
YOU could have heard a pin dropped!
And, thereafter ...
The Battle Lines were Drawn. <

<

<>

>

>
A Small Rudder turns a Big Ship
A Big Horse is turned by a Small Bit
Hell is firing in a Red Slip
Called The Red Rag - The Tongue!
God Himself hates The Gossiper
He encourages all to use a Stopper
Mind your own business - don't be a Hopper
From house to house - to Hell!
We are on The Mission dealing in Love and Mercy
We should not Gossip talking Dirt and Nonsense about Anybody
Let's Mind Our Own Business, and
Turn to God Faithfully for
He has The Cure for what Ails You and Me!