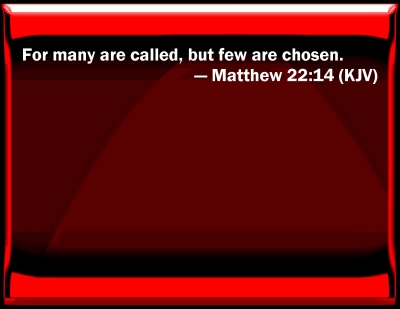 Two Invitations Had Been Extended!
Two Suppers Were Seriously On Tap!
I Had Received Invitations To Both Celebrations
BUT
I Wondered About The Meals Offered
As I Put On My Nice Thinking Cap!
I Did Me Some Serious Investigation!
I Wondered Why Two Suppers From The Same Host!
I Wondered Why I Got Invitations To Both Of Them
AND
Wondered
What To Me Would Be The Final Cost!
I Read My First Invitation
The Second Time!
It Said Plainly:
"Invitation
To
The Marriage Supper Of The Lamb!"
And Also Invited
The Poor
The Maimed
The Lame
AND
The Blind
AND
Said It Was For Those Who Had Been Faithful
AND
Desired AtONEment
AND
Had Set Aside
False Religion
Self Service
AND
Labor For Loss
AND
Visibly
Totally
Trusted Jesus Christ To Be Their Head
Because
They Believed That It Was For Their Soul's Salvation
That Jesus Christ - Himself -
Had laid In The Cold Grave
Dead!
The Lamb's Marriage Supper Invitation
Had Appended
A Voucher For Jesus-Made Clothes
White Linen
With The Thread Thereof
Being The Exclusive Inclusive Christ's Righteousness
And Saying:
"Wear These Garments - They Are Your Ticket!
Wear Any Other
AND
At The Feast
Your Presence
Will Be Absent In It!"
I Thought To My Self
That I Shall This Supper Attend
For With True Clothes Provided
At This Supper I Know By The Kind Host
I Will Be Well-Fed!
Curious Now
To See What The Other Invite Would Give Me
I Opened The Second Supper Invitation
In Haste
AND
Just As Fast As I Had Opened And Read It
I Wanted That Invitation Out Of My Face
Place!
That Second Invitation
Had
All The Fowls That Fly In The Midst Of Heaven
As Guests Of Honor
Personally Invited
To
The Supper Of The Great God!
AND ...
Stating That The Meal Will Be On Those
Who Have Loved And Heeded
The Willful Writings
The Specious Speeches
The Poisoned Promises
AND
The Dastardly Dealings
Of That Lying Wanna-Be god-Fraud!
That Second Invitation
By Way Of Entreaty
Said Explicitly To Those Fowls:
I Was Totally Shocked
For
If I Had Been One Of Those
Who Had Gone Up Against Jesus Christ
I Could Look Forward To Becoming ...
BIRD FOOD!
Instead Of Me Eating The Lamb's Wedding Feast
I Would
- Either By Personal Decision
Or
Decision By Default -
Be The Feast For Fowls!
If I Had Been An Unbeliever
I Would Have Filled Fowls!
I Laid On My Bed
AND
Cried
AND
Remembered The True Words Of Life
AND
Blessed Almighty God
For
The Saving Grace
Of
The Just Judge
Jesus Christ
My Coming King!
I Joyfully Destroyed The Second Invitation
For
I Loved The Lamb!!